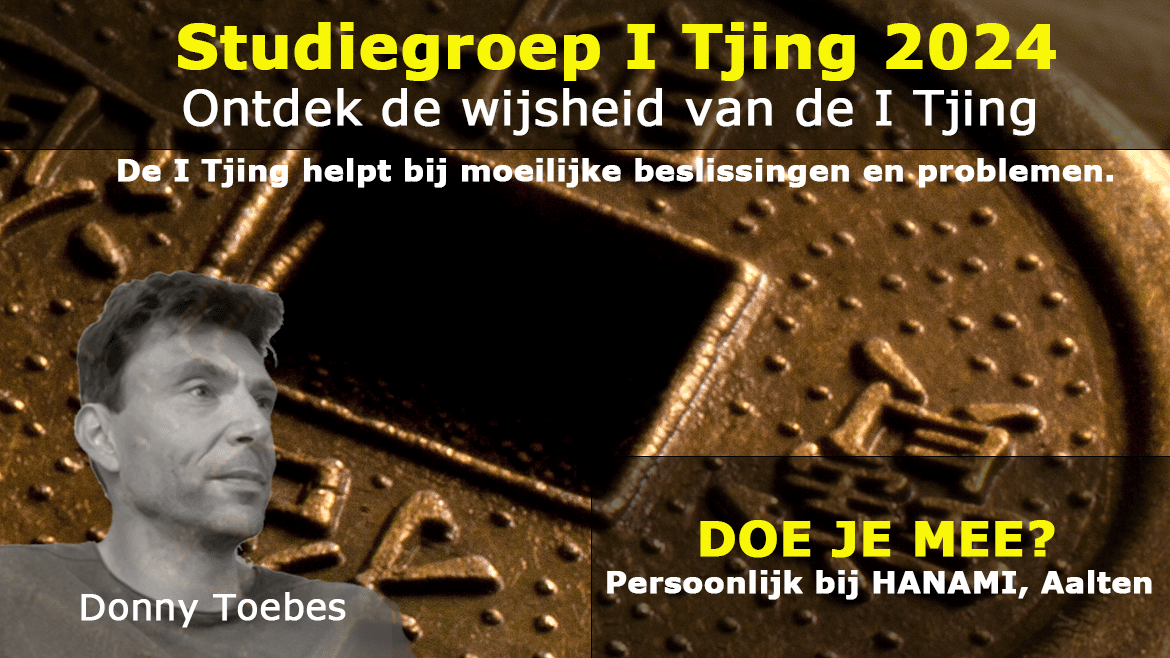 15 uur | Live | Dutch | € 399
13 Januari 2024 | 13:30-16:30 uur
Ontdek de wijsheid van de I Tjing. Een goede start van 2024, het begrijpen van de I Tjing en toepassen bij beslissingen en situaties.  Donny neemt je heel 2024 in kleine stappen mee in de wereld van de I Tjing.

To have anything we want, we need only raise our level of consciousness to the level of consciousness where what we want exists.

Studiegroep I Tjing 2024

Ontdek de I Tjing en leer het boek te begrijpen en raadplegen.

De I Tjing laat ons zien dat de wereld een dynamisch nauw verbonden geheel is. We gaan op een laagdrempelige en praktische manier aan het werk met de I Tjing. Vanuit de filosofie en de indeling van de I Tjing gaan we echt bezig met het raadplegen van een boek vol wijsheid. We leren te communiceren met de I Tjing. We leren door te doen en we transfomeren kennis naar wijsheid. Deze cursus heeft totaal vier delen en een oefenmiddag.
Het eerste deel is de benodigde basis met voldoende voorbeelden om te zien hoe waardevol de I Tjing is voor de moderne (spirituele) mens. Vanuit het eerste deel maken we stappen in verdieping, verbreding en we blijven oefenen.
Donny Toebes heeft de I Tjing geleerd bij de bron, de chinese meesters. De I Tjing is voor Donny één van de 'adviseurs' zowel privé als binnen Hanmeda en de Universals. Anouchka de Vries gebruikt de I Tjing als coach en businesscoach. Samengevat: veel theoretische en praktische kennis binnen de studiegroep.

De leerdoelen op een rij:
vragen kunnen stellen aan de I Tjing
situaties kunnen voorleggen aan de I Tjing
begrijpen en toepassen van de hexagrammen
ervaring krijgen met verschillende methoden
I Tjing als ondersteuning voor anderen
Om de I Tjing goed te begrijpen en toe te passen verdelen we leren en oefenen over heel 2024.
We hebben 4 lesblokken van 3 uur en één optionele oefenmiddag.
Ook dit jaar maken we een studiegroep waarin Donny ook aanwezig is.
Indeling hele cursus:
Introductie (januari 2024)
Verdieping in vraag en antwoord (maart 2024)
Verankeren verandering en innerlijke sturing (juni 2024)
Uitdagingen, toekomst en weerstand (september 2024)
I Tjing Oefenmiddag (november 2024)
De studiegroep bestaat uit de deelnemers die in januari 2024 starten.
Naast de vijf bijeenkomsten, kiezen een digitale samenwerkingsvorm waarin we de I Tjing gaan
gebruiken voor een eigen thema of de vraag van iemand anders. De studiegroep is dus een uitgelezen mogelijkheid om zelf te werken met de I Tjing en de mogelijkheden ontdekken om andere te helpen.
Jouw investering:
Een lage investering van 325 euro en 45 uur aan tijd maakt het mogelijk aan jezelf te werken. Daarbij kies je tijdens 2024 het I Tjing boek dat je wilt gaan gebruiken. Dit boek zit niet bij de cursus in.
De groep is maximaal 8 personen. Bij de eerste bijeenkomst spreken we datums van de vervolgdelen af.
VROEGBOEKKORTING
€325 (normaal €399)
Oops! We could not locate your form.
Stay Connected and Get The Latest Info